8 Night Routines That Every Woman Should Do Before Hitting The Bed

After a day's work and demanding schedule, all you want to do is hit the bed. But you should not skip these nightly routines irrespective of how tired you are.
#1. Cut out on that cuppa before hitting the sack
Hot beverages like coffee or tea contain caffeine and when you consume them before going to bed, it wards off sleep and will certainly disturb your sleep pattern.
#2. Remove make-up
If removing make-up seems to be a time-consuming affair, then use baby oil or Vaseline petroleum jelly to remove it in minutes. When you sleep with your make-up, your skin is affected as it seeps into the pores which clogs them and might result into sudden breakouts or might even make you look old. Removing makeup would allow the skin to breathe and be healthy.
#3. Pamper your tresses with a silk pillow cover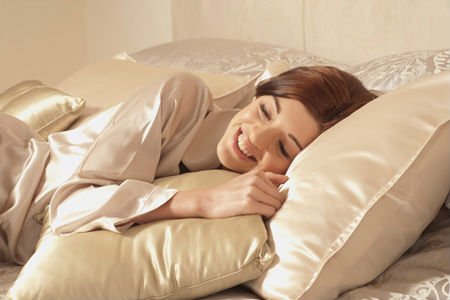 Cotton or linen pillow covers often are rough to the hair follicle and they might affect the texture of the hair or its lustre. You can get a silk or satin pillow cover or if you have a scarf of that material then you can spread it on your pillow and sleep on it.
#4. Keep your mane out of your face
Hair has oils and dust, and when it touches the face it might lead to acne. Pin your hair up or tie it with a loose scrunchie before sleeping.
#5. Sleep on two pillows to avoid puffy eyes
Sleeping on two pillows will prop your head up and will provide better lymph and blood circulation and prevent its accumulation under the eyes. Follow it and see the difference.
#6. Apply light moisturizer
Applying a light moisturizer will keep the skin supple and will not make the skin oil. Also, when you apply the moisturizer, make sure that your massage your skin softly with your finger pads to improve the circulation and avoid wrinkles.
#7. Do not skip brushing your teeth.
Although we have heard our dentists, teachers and our parents teach us the good habit of brushing at night before sleeping, eventually that habit wears us off and we simply skip doing that routine. However, dodging it is not a good idea as the food consumed during the entire day often stays on the teeth irrespective of how many times we rinse with water and this often leads to cavities. Regularly brushing teeth at night is the only healthy solution to cut down the risk of cavities.
#8. Avoid eating sugar-y foods before sleeping
Sugar gives adrenaline rush and makes the body more aware for fight or flight situations. When you consume foods high in sugar content, it usually wards off sleep when you actually need it.
***
The featured image is sourced from here.