I Went On A Digital Fasting For A Day And This Is What Happened

In this fast technology leading life, we depend on our electronic gadgets a lot. Be it waking up in the morning with the help of multiple alarms or scheduling our meetings with the aid of a gazillion phone applications, we all need the techno shoulder to lean on.
One day I was simply sitting and pondering over my dependency on the technology and I was shocked to know that except my biological and cognitive functions, I depended on my phone, tablet, laptop and TV for almost everything. I decided to list down a checklist of things that I am missing due to this tech addiction, and I came up with the following things:-
Listening to people – I would constantly fiddle with my phone busy looking at how many likes I have got on my profile picture, checking silly WhatsApp photos and texts, while the other person was actually sharing something serious with me.

Reading actual physical books – With the kindle and numerous e-books I had ignored my collection of books in the library of which I was once proud of.

Being creative – Often I would spend my time painting or doing some amazing DIYs, and it had been almost two years since I painted anything or did any DIYs, though my Pinterest had hundreds of DIYs and painting ideas.

'Me' time – I would give technology to cloud my thoughts with multiple things that I didn't realize that I was forgetting 'my – time' which I would often use it for meditation, relaxing or even pondering and planning some things. I would often sit in my balcony with a hot cup of coffee and simply look around the things. Now, I would gulp my coffee down and rush to see some movie coming on HBO.

Working out – Now this was one of my favorite activities and a HUGE stress-buster, but when I tried to recall the last time I had worked – out I couldn't remember it at all! It had been that long. I was a borderline fitness freak then and I really enjoyed doing it. I immediately rushed to see my reflection in the mirror and I saw that I had gained some weight, but not much (or maybe it was psychological, or that's what I'd like to think 😛 ).

Going out or being amidst of nature – I would often laze around the house with a bowl of popcorn in one hand and scrolling on Tinder, Facebook or Twitter. Those gadgets had mesmerized me so much that I was in a relationship with all of them rather than with people or nature.
I read the list, and though it didn't seem too long, it had all the things that I used to enjoy and which were absolutely productive! And I had missed all those things and was busy scrolling on my laptop or phone! It was some kind of a revelation for me and one weekend I decided to go on a digital fasting (of course, this golden weekend came after procrastinating for the previous three weekends).
But this time, my determination was rock solid and I locked all my gadgets in a cupboard. In case you are doing this, please make sure that you inform all the people close to you about this so that they don't panic when you don't respond to any of their texts or calls. Also, make sure that you are don't live close to a potential serial killer, stalker or a bear in case they attack you while you are busy taking a step towards nature or doing something absolutely harmless. You can ask one of your friends to come and check on you once in a while, but DO NOT look at their classic black or snow white gadget! Make sure you are away from those things in rose gold and champagne gold!
I had already packed my 'treasure' in cupboard the night before, and as a result of the absence of alarm, I woke up late, say around 10:30 AM (now you get why I chose the weekend?). I got up and as a habit, I looked for my phones and gadgets, but soon after a minute, I realized that I had packed them off for a day. I got fresh and decided to have my 'me' time armed with a hot cup of coffee in the balcony watching the hustle bustle of people. After half an hour, I decided to cook my meal, this time without the aid of any recipes in food network and I decided to go for the tried and tested ones. As I was cooking, I felt like baking something, so I checked if I had some baking supplies and when I had them, I decided to bake cookies. The meal and the baking almost took two hours and I had awarded myself with a four-course meal and three batches of oven fresh chocolate chip cookies. The time was almost 1:30 PM by the time I was done with my meal and cleaning. After a hearty meal, I began to read a book which I had for years but never got a chance to be around it. Involuntarily after some time, I drifted off to my siesta. I woke up half an hour later, refreshed (and surprised at how much I am sleeping in a day) and had a cup of coffee accompanied with those chocolate chip cookies.
After a while, I was thinking whether I should go for painting or some DIY activity (painting it was!). I sat down with my old pair of shorts and T-shirt and marveled at the memory when I would wear them every time I would paint something. After a little bit of day – dreaming, I readied my supplies (which I had already bought three weeks back, you see I was pretty serious about this thing at that time!) and painted in glory.
I was planning to go Gogh and do this…
Source
And ended up with my painting looking like this (just worse than this one).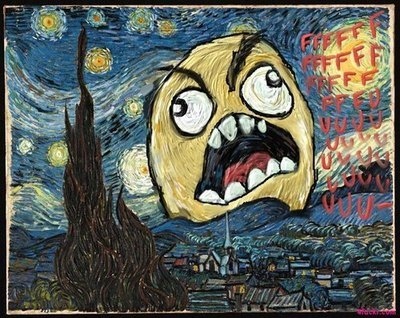 Source
As you can see, I am not proud of this one at all (I am mortified actually), but still I am a good painter (please don't laugh, I really am).
After this fiasco, I went for DIYs and consoled myself that with a little bit of regular practice I would get my painting knack back. I had taken out the print outs of the five DIYs that I had liked the most, I was armed with the supplies, and decided to make some earrings and save some money. Thankfully, I followed the instructions like the Vodafone pug and soon, I ended up with three pairs of personalized and customized earrings, and I smirked to myself thinking of the time when I would show off these earrings to my friends and colleagues.
As the dusk approached, I decided to take a walk in the park near my home (hence, clubbing the fifth and the sixth, like a BOSS! B) ). I walked for almost an hour, and by the time I came home I was tired yet refreshed. I cooked a light meal for dinner and decided to meet up with some friends who were talking to me but I had been basking in the tech's warmth. Surprisingly, when all of us were taking that trip down the memory lane, I realized that none of my friends including me did not once look at the gadgets (me because I didn't have any). All of us were enjoying so much that we didn't realize how fast the time flew and by the time we got up to leave, it was 11:00 PM.
I reached home, and was overwhelmed by the day's event and tired. I was tired, yet I couldn't help but reflect that we control e – devices and not the other way round. We can enjoy life without much involving the gadgets and can live life. When I got into my room I struggled to get in my clothes, for I was so tired and soon I was fast asleep in my bed.
 It is up to us whether to give gadgets the control or not. I am not saying that we should completely abstain from tech usage because in today's era it is not possible and certainly not practical. But, we can strike a balance and limit their usage or use them only when we need them to facilitate our work.